2016 Mazda 6 Aftermarket Stereo Install: Introduction
john_admin

- Sat, 10/07/2017 - 13:08
-Article edited by kc_admin.
Ever since I was in college, I've been a car stereo kind of guy. I was well out of college and on my second job before I could afford exactly what I wanted in a car stereo. In 2000, I bought a new Mazda Millenia S, a dream car of mine in many ways. Within the first week, I took it to my local car stereo store where I had the whole stereo system replaced. MB Quartz speakers, JL Dual 10 inch Subwoofers with custom enclosure, two Rockford Fosgate Punch amps, and a Sony ES 900XRC single din head unit. The system was tuned not for volume, but for clarity and exactness. It was an awesome setup and I kept the car for 16 years. I wore out the volume control on the unit after 12 years and replaced the head with another Sony deck. After driving the car for 289k, the engine started to show its wear and further repair didn't seem practical. In April of 2016, I bought a new 2017 Mazda 6 hoping that the factory stereo would prove adequate.
It didn't and there I was... I had a great new car, but with a crappy sounding system and clunky interface. What agitated me the most about the interface was there was no way to skip a folder. If I wanted to move around the list, I had to work the knob and watch the screen. Not fun at all.
I knew I would never be happy with the car unless I could get the sound system to sound at least as good as my previous system. I first tried to go the modern method - replace the speakers, add an amplifier, but use the existing head unit. That's done by purchasing a device that takes the amplified signal that goes to the speakers and turns them to line out. These devices also have the capability to change the signal. For example, many modern units reduce the bass output as the volume increases. This is done primarily for two reasons: 1) it takes a lot of power to produce low frequency sounds and the OEM amps just don't have nearly enough power to do that, and 2) the OEM speakers just can't handle a lot of power. In other words, they're junk compared to high quality equipment. Back to the unit, it's able to modify the signal to compensate for the drop in bass.
I tried this route and was completely dissatisfied. The device could not make up for the deficiencies of the factory amp. It also either transmitted or introduced a high pitch whine into the signal. So, I needed to go old school and have a full classic car stereo with a traditional head unit. Since no one makes a replacement head unit for the Mazda 6, I had to go custom. Here's what I mean: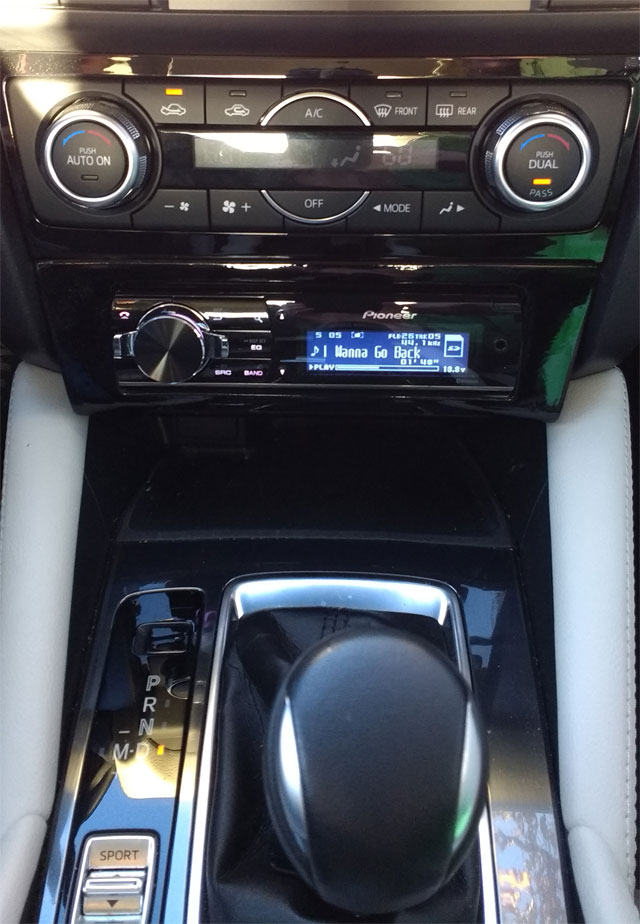 To read or leave comments on this article, click here.
Article Index: